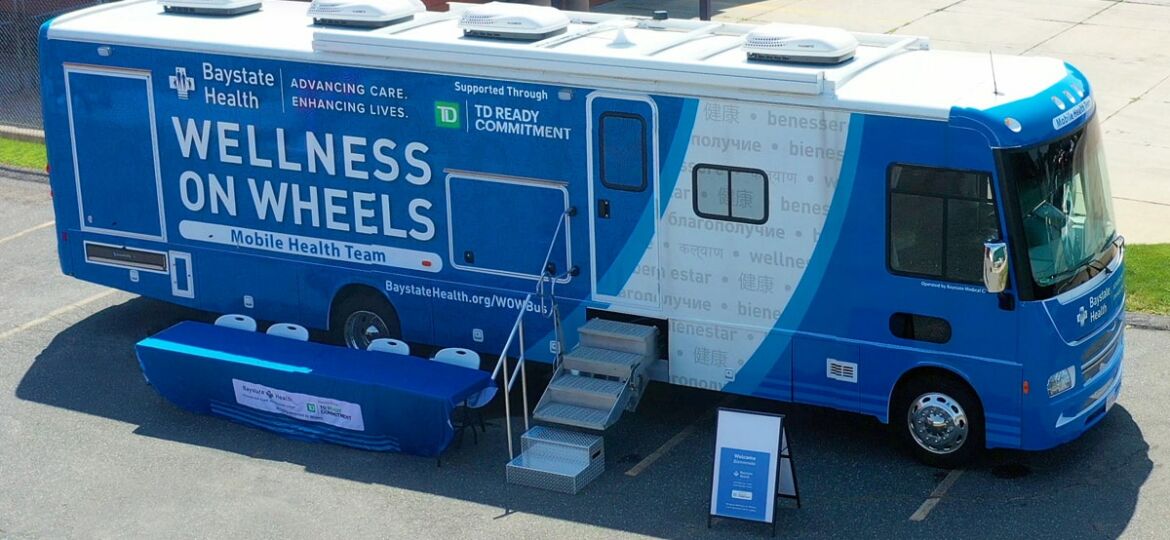 Access to healthcare is not the same for everyone. Some people do not have the ability to take time off work or access to transportation, and others may have had poor experiences with the healthcare system. Everyone deserves to receive the care they need. Removing barriers to care is essential and may be done by bringing care directly to the patient. Mobile health units, which are vans or buses that have been remodeled for healthcare delivery, are one way to overcome these healthcare access issues. Mobile health units are not one size fits all; the services provided on these vehicles can vary depending on its location and population it is serving, but most tend to focus on preventative care. It is estimated that mobile health units in the United States receive between 5.2-7.0 million visits per year (1). The cost of running and staffing these mobile clinics varies on the types of services provided by the van. Preventative and primary care clinics cost an annual average of $479,000 to $822,0003. The cost per visit for patients also varies on the services received and can range from $65 to $243 for preventative services (3).   
Mobile health clinics are an essential method of healthcare delivery, especially to vulnerable and underserved populations, as they help patients to overcome barriers to accessing preventive healthcare. For many patients, timing, location, and cost of an appointment can make it very difficult to receive care, so the mobility and flexibility of these clinics on wheels improve access to care (1). 
Mobile clinics are being used in a variety of ways around the country, including here in Massachusetts. Dr. Sarah McAdoo, MD MPH, Director of the Population Health Capstone at University of Massachusetts Medical School – Baystate and Chair of the Board of Health, East Longmeadow, MA, recently started the Baystate Wellness on Wheels (WOW) Bus, a new mobile health unit associated with Baystate Medical Center in Springfield, Massachusetts. The WOW Bus's mobile health model hopes to reduce inequities in access to care, including reproductive health and family planning services, and to provide an opportunity for community and provider education. During the COVID-19 pandemic, the WOW Bus team focused on providing COVID-19 services to hotspot populations in Western Massachusetts that also struggled with high rates of chronic health issues. They worked with community health centers and stakeholders to build relationships with these communities in hopes of providing long-term, continuous care through the mobile health delivery method. They also collaborate with other mobile health units in the area that provide different screening and care services in order to diversify the types of available services. Though the pandemic slowed down the WOW Bus, the program continues to grow and increase its services in the community. 
One area that the WOW Bus hopes to grow in is its reproductive health offerings. Family planning services, including contraceptive counseling, emergency contraception, pregnancy tests and pregnancy options counseling, are needed by the served population and are an important part of preventative care. These services are important for maternal and child health and wellbeing. Improving access and delivery of family planning services can reduce the cost associated with unintended pregnancies and can allow people to live more independently (4). In Massachusetts, 47% of all pregnancies are unplanned5. Providing patients with control and confidence over their contraception and pregnancy decisions can improve the health and quality of life of both the parent and child. Using the mobile health model to provide family planning and reproductive health services may help increase education around contraceptive and pregnancy options and resources as well as reduce the rate of unintended pregnancies. The Baystate WOW Bus hopes to expand its services to provide healthcare delivery for chronic health issues as well as reproductive healthcare. 
The Baystate WOW Bus is not the only mobile health clinic offering reproductive health services in Massachusetts. Below is a list of resources that compile service locations and specific mobile health units in the state: 
Online Maps and Resources
Boston ABCD

is a nonprofit human services organization that each year provides low-income residents in the Greater Boston area. They are a comprehensive resource providing information and programs for career development, education, childcare, financial, health and housing information. They provide information and resources for preventative health programs and Title X

family planning services

. They have an easy-to-use

map of service locations

including clinics and community health centers with varying costs and coverage.  

The Family Van

is a mobile clinic provided through Harvard Medical School. Their goal is to provide preventative medicine while increasing access to quality affordable health care. They provide community healthcare education, counseling, and encourage healthy behaviors. The van has a

schedule

posted online and travels to a variety of locations around the Greater Boston area. The services included on the Family Van are general health checks, blood pressure and blood glucose screenings, mental health checks, pregnancy testing and family planning services. These services are provided with no required insurance and at no cost. 

There are many resources online that provide lists and maps of family planning services near you.

Bedsider's Map

and

Mobile Health Map

associated with Harvard Medical School provide locations, services provided, populations served, and cost/insurance information. Compiling providers and clinics in this way can help people find service near them for a cost that works for them. 
Mobile clinics can be very effective in providing care to low-income communities. These innovative clinics were even more of a valuable resource during the pandemic (3). In other countries, mobile clinics for family planning services increased contraceptive use and family planning education (6). Mobile clinics and telehealth are a great way to increase education and use. Currently, there are many mobile clinics for health screenings and preventative care, but not many provide family planning services. Working together with other mobile health units and community centers, Dr. McAdoo described an effective way to collaborate with other healthcare providers in order to provide communities with the healthcare services they need. As the COVID-19 pandemic has shown, these alternative health models have proven helpful and efficient in a time when many people were not able to travel to their appointments and there was an increased need for care.
Sources
Malone, N. C.

et al.

Mobile health clinics in the United States.

Int. J. Equity Health

19

, 40 (2020).

Yu, S. W. Y., Hill, C., Ricks, M. L., Bennet, J. & Oriol, N. E. The scope and impact of mobile health clinics in the United States: a literature review.

Int. J. Equity Health

16

, 178 (2017).

Attipoe-Dorcoo, S., Delgado, R., Lai, D., Gupta, A. & Linder, S. Analysis of Annual Costs of Mobile Clinics in the Southern United States.

J. Prim. Care Community Health

11

, 2150132720980623 (2020).

Ensuring Access to Family Planning Services for All.

Center for American Progress

https://www.americanprogress.org/article/ensuring-access-to-family-planning-services-for-all/.

Massachusetts Data | Power to Decide. https://powertodecide.org/what-we-do/information/national-state-data/massachusetts.

Mobile Outreach Services for Reproductive Health Needs. HIPs https://www.fphighimpactpractices.org/briefs/mobile-outreach-services/.